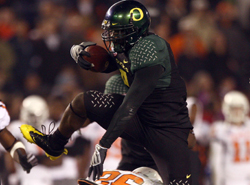 Oregon running back LeGarrette Blount made news this week when he joined the Titans after initially agreeing to a deal with the 49ers.
One of the reasons Tennessee felt so confident about giving Blount a chance was his relationship with Tony Dungy.
"We talked to the kid, we talked to Tony Dungy, who
counseled the young man some, I think we spent a lot of time talking to
the coaches there. I think we felt that it was probably the right thing
to give him an opportunity," G.M. Mike Reinfeldt said on WGFX.
Dungy spent time with Blount after his suspension from Oregon, and advocated for Blount to be reinstated to the team. Jeff Fisher and Dungy have a close relationship — they occasionally even share clothing — so it's no surprise a reference from Dungy went a long way.