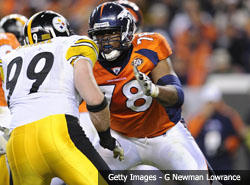 This is one of those posts where the headline pretty much tells the entire story.
Mike Klis of the Denver Post writes that Broncos Pro Bowl tackle Ryan Clady suffered a non-football injury to a patella tendon in one of his
knees.  The severity is unknown.
No other information is available at this time, so it's tough to gauge whether this is a big story or not.  We'll let you know once we hear more.
UPDATE: The injury "could be serious" according to Klis.