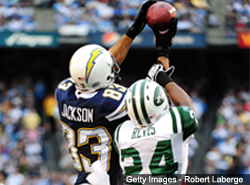 Chargers receiver Vincent Jackson has two DUIs on his record. He added to his rap sheet on Friday with something far less troubling.
According to Brent Schrotenboer of the San Diego Union-Tribune, Jackson pleaded guilty to knowingly driving with a suspended license.
Jackson was apprehended while driving to the Chargers' playoff loss to the Jets. (He caught seven passes for 111 yards during his visit to Revis Island; maybe getting handcuffed should be added to Jackson's pregame ritual.) Jackson was fined less than $1,000 and sentenced to 80 hours of community service. "Vince just wants to get ready to play football this season, and he
doesn't want to have a lot of this legal stuff hanging over his head,"
his attorney, Cole Casey, said.
His second DUI conviction resulted in four days of roadside trash pickup. "He picked up trash on the freeways and did every day of it, every
single day of it without a peep," Casey said.
Jackson likely will be hearing a peep or two from the league office. Though the most recent guilty plea likely won't result in punishment, the NFL is still considering the appropriate punishment for DUI No. 2.