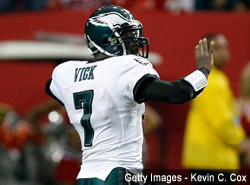 After the 2009 season ended, Eagles quarterback Mike Vick made clear his desire to become a starting quarterback again.  At one point, he openly spoke about his preference to play for the Panthers.  Even former Eagles quarterback Donovan McNabb said that Vick "definitely deserves" a chance to be a starter.
He also eventually indicated that he'll accept his role in Philly, and that he "can't be a disgruntled employee, because that's not who I am."
But after Vick's first offseason minicamp as the second-string quarterback of the Eagles, there are signs that he could be considering changing into someone else.  "It's different running with the two's," Vick said Sunday, per DelcoTimes.com.  "I never had to do that before.  Even when I got here last year I
was running with the three's but that was expected.  Now I'm running with
the two's and it's full-time and this is my permanent job.  So it's a
different feel but at the same time what I say to myself is just try to
get better as a quarterback."
Though he chose his words carefully, the message is clear.  He still wants to be a starter.  And if starter Kevin Kolb struggles to start his first season as a starter, it's hard not to wonder whether Vick will start pushing the buttons of some of the guys who supposedly voted unanimously for him as recipient of the Ed Block Courage Award.
UPDATE:  Jeff McLane of the Philadelphia Inquirer concluded that Vick is OK with his current role, based on comments made by the quarterback on Saturday.  (Yes, the same McLane who reported that Donovan McNabb imminently would be traded to the Rams.  Then again, he never killed Terry Bradshaw.)