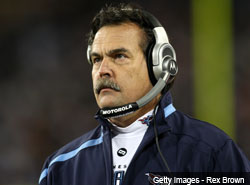 While LP Field in Nashville floods, Titans coach Jeff Fisher has been standing watch at the team's practice facility across town.
He heard about the flooding, and headed to Baptist Park Sports Facility despite the area being closed by city officials. Fisher told the Nashville City Paper that he was one of only a handful of people in the building — mostly security staff.
"Water rose to edge of the practice fields and the [indoor practice
field] bubble but has fallen back some," Titans media relations director Robbie Bohren told the Tennessean.
Efforts are continuing to sandbag the levee near their facility.
"It's close, but there has been absolutely no damage," Fisher said.
The same can't be said for LP Field. The Titans tweeted that the service level of the stadium is taking water. This includes the locker rooms,
loading dock, press conference rooms, and concession facilities.
It appears the water on LP Field is coming up from below, through the drainage system.