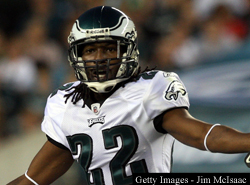 Eagles cornerback Asante Samuel has heard the jokes and read the articles.  He knows he's accused of avoiding contact and he's not happy about it.
Our old buddy Tom Curran passes along a report from Comcast Sports Net in Philadelphia that Samuel spent much of his minicamp weekend berating one reporter.
"Nobody talk to [him]. He's a weasel!" Samuel yelled during practice for everyone to hear.
PFT has since confirmed the incident, and found out that Samuel was yelling at Paul Domowitch of the Philadelphia Daily News. 
Domowitch isn't exactly known for his sunny disposition, but it's not like he's off base with his criticism of Samuel.  
"I see a free-lancing cornerback on one side — Asante Samuel — who has a terrific knack for intercepting passes, but is
allergic to tackling and playing press coverage, and frequently got his
lunch eaten on bubble screens last season as teams started noticing he
was lining up in another zip code," Domowitch wrote last week.
We hear Samuel voiced his problems with Domowitch on Friday and Sunday last week, so either no one from the Eagles told him to knock it off or Samuel ignored the advice.
This could make for a contentious season for Samuel in Philadelphia.  If he wants to harass every reporter that questions his tackling, he won't have a lot of time for other things.
Like, say, trying to improve his tackling skills.