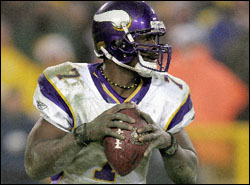 Vikings quarterback Tarvaris Jackson, who has gone from backup to starter to backup to starter to backup, admitted in a Tuesday appearance with Adam Schein and Rich Gannon of Sirius NFL Radio that, in the past, he has "wanted change." He has since decided to stay put in Minnesota.
For now.
"You have to think everything through and think of different scenarios
and just try to be ready for anything because you never really know what
[coaches and front office people] are thinking," Jackson said, via Judd Zulgad of the Minneapolis Star Tribune. "Honestly, it crossed my
mind and I've wanted change, but change is not always good. The grass
is not always greener on the other side. The Vikings are all I know
right now and I'm just trying to do my best around here."
Jackson gained his perspective in part from the guy who took his job in 2009 — and who could keep him on the bench in 2010.
"One thing I learned from Brett [Favre] is just be yourself regardless of the
situation and the circumstances," Jackson said. "Just go out and be yourself
today, every day and they [can] take it or leave it. That's what I'm
going to do and that's how I'm approaching it. Just trying to get better
every day like I always did, working hard. That's all I can do and
that's how I'm going to take it."
As to Favre's future, Jackson hasn't asked him. Per Jackson, "I don't think that would be cool." Still, Jackson said that he "wouldn't be surprised if [Favre] came back."