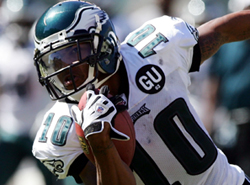 Earlier today, MDS pointed out the response of Redskins quarterback Donovan McNabb to the recent remarks of Eagles wideout DeSean Jackson, who told Sporting News, "I don't think we lost anything, even with McNabb being gone."
Jackson said more in his sit-down with Steve Greenberg.  Here are the highlights:
1.  Jackson confirmed that, as we suspected, he wasn't happy with McNabb's comment after the regular-season loss at Dallas that the Eagles "showed our youth." 
2.  Jackson insists that the team isn't rebuilding.  "We're always in competition to be one of the best teams in the NFL," he said.
3.  As to the team's now-youthful offense, Jackson said, "The sky's the limit to me.  I think you can call us the Young Guns:  We're all young, we're all explosive."
4.  Jackson thinks that he and Titans running back Chris Johnson are the most explosive offensive players in the NFL, and Jackson would like to race him at some point.
5.  Jackson's concussion suffered during the 2009 season was only a Grade 1 bell-ringing, but initially he "was scared."
6.  He isn't letting his contract situation bother him, and he claims that he changed representation from DeBartolo Sports to Drew Rosenhaus in 2009 not to get a new deal but because he "wasn't comfortable" with his former agents.  "My last agents, I was kind of like their biggest client," Jackson said.  "They didn't really know how to handle me as far as the things top athletes need."
7.  As to endorsements, Jackson wants to "take advantage of all the things I can off the field," and he hopes to be "the face" of franchises like McDonald's.  (Get in line, DeSean.  Get in line.  We suppose he eventually wants to be an actor, too.)
Jackson indeed looks to be a special talent, and he'll likely make a ton of money.  But we see more than the beginnings of the NFL's next pass-catching diva, and the Eagles soon could end up with another wideout who is hard to keep happy.