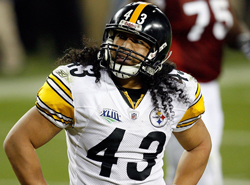 Steelers safety Troy Polamalu injured his knee on opening night last season, at some point after making a one-handed interception for the ages against the Titans.  He returned later in the year, but he re-injured the knee in the first quarter of a loss to the Bengals — the only game in which he appeared last year that the Steelers lost.  (They won the other four.)
Down the stretch, Polamalu's availability was consistently up in the air, but he never played.  Last week, he explained why we didn't see his long mane flowing out from under a black helmet beyond the middle of November.
"[I]f I would have injured it again, the doctor was
saying that it will be a career-ending injury, most likely," Polamalu told John Harris of the Pittsburgh Tribune-Review.  "I had to face that. . . .
"In the past, I had to wear a brace because it was career-threatening.  A
career-ending injury if I would have sustained another injury."
Ultimately, Polamalu didn't require surgery, and his injury has healed over time.  "Right now, I feel fine," Polamalu said. "[But] I don't know what
happens when we start tackling."
Apart from the confusing and muddled quarterback situation in Pittsburgh, Polamalu's health could be the team's biggest concern for a franchise that is trying to find its way after a season that turned out very poorly after Polamalu went down for good.