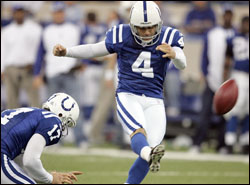 When the Colts made the Super Bowl last year, Matt Stover attempted the field goals, while Adam Vinatieri watched from the sideline.
Stover has since become a free agent, leading to the logical conclusion Vinatieri will get his old job back.  ESPN's Paul Kuharsky says the Colts want the veteran to get the job, but undrafted rookie Brett Swenson will have a shot.
Vinatieri is paid well, and requires another player on the roster to handle kickoffs (Pat McAfee).  And while Vinatieri will be the favorite to stick with the Colts, he has to prove he's healthy and accurate again to keep his job.