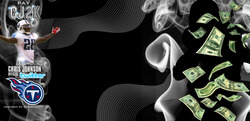 Chris Johnson isn't just getting support from NFL Network personalities.
A fan of the Titans running back started an online petition on Tuesday to help "PayCJ2k."  Johnson didn't start the petition, but he did pass along the link to it on Twitter.  (As of 5PM, the petition has all of 45 "signatures.")
The theme of getting paid is repeated often on Johnson's Twitter page.  One fan came up with the graphic that we copied above.  (It's not Johnson's actual background.)
Another comment that Johnson "retweeted" on Tuesday went as follows: "Who wants to start a boycott until @chrisjohnson28 gets his money?"
We know it's ultimately harmless, but that's probably not a message the Titans appreciate sending out there.