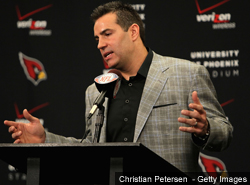 Former Rams, Giants, and Cardinals quarterback Kurt Warner, who likely has done enough in his final two seasons to cement a spot in the Hall of Fame, has made it clear that he won't be doing the back-and-forth Brett Favre thing. Now that Kurt is retired, he's retired.
There's no reason to not believe that. But we've recently picked up on some rumblings suggesting that it's not out of the question that Warner could return for another season.
Some believe Warner assumed he'd automatically get a job covering the NFL on one of the networks. To date, he hasn't. And, by now, the assignments for 2011 are largely firmed up.
So if Warner won't have a TV gig in 2010, the thinking is that he could be lured back to the gridiron.
And the Cardinals, who are saddled with Matt Leinart and Derek Anderson, could be interested in bringing him back.
The key word in all of this is "could." At this point, it's way too early to believe that Warner would decide not to not play football. But unless and until he lands a job in television, it's a possibility that needs to at least be considered.
That said, he still could find something in television for the NFL season. Earlier today, Warner announced on his Twitter page that he'll be working the Iowa Barnstormers and Arizona Rattlers game for NFL Network on Friday, May 21. So just as Warner parlayed his football performance in the AFL into NFL stardom, maybe he'll be able to do the same thing from a broadcasting perspective.
With or without someone's knee getting blown out in the preseason.