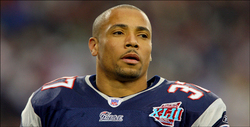 Before I met Rodney Harrison last November, a league source with extensive knowledge of the 15-year veteran told me in no uncertain terms that Rodney is a great guy.  "One of the best," the source said.
I've been around Rodney six times or so since then, and the source was right on the money.  He's quiet and polite and charming and understated and genuinely committed to being the best analyst that he possibly can be, without pulling any punches.  His candor, which likely will become even more potent in 2010, likely won't win him many slaps on the back from the folks who are the targets of it.  But Rodney goes about his business off the field the same way he went about his business on the field — he has a job to do, and if someone doesn't like how he does his job, that's their problem, not his.
And there's no arrogance in that attitude.  It's the way he's wired.  If every football player approached his job that way, the sport would be far better for it.
We mention all of this because Rodney's style has gotten the attention of folks beyond NBC.  As Bob Raissman of the New York Daily News recently explained, Showtime's Inside the NFL was very interested in hiring Harrison for 2010.
Raissman reports that Harrison "was all but told he had the gig," but that the "deal was nixed" when "word was passed to top brass."
Raissman never clearly points a finger at CBS or NBC for killing the deal.  We're told that NBC had given the move "100 percent approval."  So the veto came not from 30 Rock but from CBS.
And that's their prerogative.  It's just unfortunate that Raissman's article wasn't more clear.