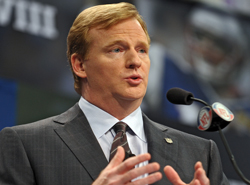 As we've mentioned a time or two over the past couple of weeks, we're in the process of preparing a PFT/NBC season preview magazine.  Since our business model rarely has involved getting you to actually pay money for stuff, we realize that we need to motivate you to do something that you rarely have had to do when it comes to visiting this site.
Since we can't ply you with drinks like they do in casinos, we'll instead be teasing a little of the content from time to time over the next few weeks. 
Here's one that we'll have a hard time topping.
On Monday of this week, I spent a full 30 minutes interviewing Commissioner Roger Goodell in his personal office at NFL headquarters in New York.  (And with all due respect to Brian Baumgartner a/k/a Kevin Malone of The Office, the visit to the Commish's fortress of solitude was an even bigger highlight of a day that turned out to be full of them.)
We talked about a wide range of issues, all of which will appear in the magazine.  But here's one that we'll share with you now, in the hopes that you'll choose to read the rest of them by buying the magazine (we're trying to come up with an effective subliminal message on that point so we won't have to continue to type that phrase).   
The Pro Football Hall of Fame bases enshrinement on only one factor:  on-field achievements and contributions to the game.  The Commissioner disagrees with that approach.
"I do believe that it's more than just how you conduct yourself on the field," Goodell said.  "I believe very firmly that it's how you conduct yourself on and off the field as a member of the National Football League.  That's part of your contribution to the game."
Pete Fierle, the Manager of Digital Media and Communications at the Pro Football Hall of Fame, quoted to me via phone on Wednesday the applicable portion of the bylaws:  "The only criteria for election to the Pro Football Hall of Fame are a nominee's achievements and contributions as a player, coach, or contributor in professional football in the United States of America."  As a result, whether and to what extent a player, coach, or contributor has conducted himself (or, in theory, herself) in an illegal or otherwise unbecoming manner off the field currently has no bearing on whether the player, coach, or contributor will have a bronze bust in Canton.
"These are decisions the Hall of Fame is going to have to make, not me," Goodell said.  "But if you ask me a specific question, 'Is it just their contributions on the field and their statistics?'  I don't think that's the case.  I think it's about what you contribute to the game of football."
Since I'm posing as a journalist on this one (for a change), I'll leave my own opinion out of it.  (That said, it shouldn't be hard to figure out what my opinion would be.)  For the magazine, we plan to harvest the opinions of every person who holds a Hall of Fame vote.
  
For now, Peter King of SI.com and NBC has shared his views on the subject.  "I think it's a very slippery slope to judge character along with football," King said via e-mail.  "I think it's certainly a bad idea to remove someone from the Hall for something he does after his career.  You'll never convince me O.J. Simpson is not a Hall of Famer, for instance.  As for judging players who screw up off the field during their careers, what's a serious offense and what's not?  I see no reason to change the rules."
The Commissioner feels differently, and he was willing to say so.  We'll have more on this in the PFT/NBC season preview magazine, which we hope you'll now feel compelled to buy.