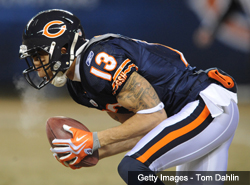 When Mike Martz took over in Chicago, he said he envisioned Devin Hester as a possible slot receiver in the mold of Az-Zahir Hakim.  That tune has quickly changed.
"He's our starter. I think he's an elite wide
receiver," Martz said on Saturday to Brad Biggs of the Chicago Tribune.  "There's no question about that. We've got all kinds of new
things for him. We're moving him all over. You'll see him line up
anywhere. Shoot, he might line up as a tight end occasionally, who
knows. We'll see."
Hester won't be re-focusing on special teams anytime soon.  He's set up to be the team's starting flanker, with Johnny Knox focusing on the X position.
"Our two starters don't learn anything else but what they have," Martz
said. "We want them to be as good as they can."
In other words, let's slow down the Devin Aromashodu fantasy football hype train a bit before it really gets rolling.  And then get one moving for Knox.
The Bears remind us of the Giants at this point last year.  Despite public perception, their wide receivers are the least of their concerns.