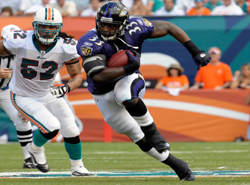 Some players use Twitter to campaign for more money.  Ravens fullback Le'Ron McClain is using his account to push for a position change.
As pointed out by Jamison Hensley at the Baltimore Sun, the veteran has started an informal "McClain for RB" campaign.  After seeing an article on the team's official website that McClain's Twitter campaign was an inside joke, McClain responded as such:
"They say its a
joke in this story? No Im serious 'MCCLAIN 4 RB,"' he wrote.
While McClain would love to get back to carrying the rock, we do think the gesture is tongue in cheek. He's talked plenty about enjoying going to the Pro Bowl as a fullback and helping Ray Rice out.
Then again, he's tweeted the same "McClain 4 RB" tag after every practice this offseason. 
We'll see if the Ravens coaches are paying attention.