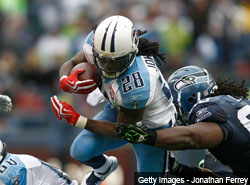 Titans running back Chris Johnson wants a new contract. He wants one so badly that he's not showing up for offseason workouts. He likely wants one so badly that he won't be showing up for training camp.
But Johnson will be conducting a youth football camp, and he asked coach Jeff Fisher to help out. According to Paul Kuharsky of ESPN.com, Fisher had some fun with the situation.
"He invited me to participate in his football camp," Fisher said. "I told him I'd like him to participate in mine."
Fisher's humor reflects a degree of confidence that the situation can be worked out.
"I think it makes sense to get everybody together and I think that's what
we'll push for," Fisher said. "There is no purpose, no set agenda right
now. But it would make sense to get together and try to sort things
out. . . . We clearly have an issue and we're going to try to get it
resolved."
Though Johnson wants a new deal, the Titans' hands are tied, to an extent, by the 30 percent rule, which limits the ability of teams to give out raises in the uncapped year. But the 49ers have managed to pay linebacker Patrick Willis, and the Eagles have managed to find a way to pay quarterback Kevin Kolb.
If Fisher is expressing optimism, it apparently means that the Titans are willing to adjust Johnson's deal. The real question is whether they're willing to do enough.