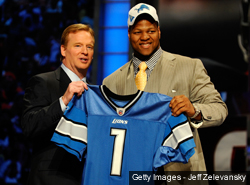 The Lions have earned plenty of top-five draft picks over the last decade, thanks in large part to their chronic inability to use those picks on players who can actually help the team improve.  The latest high selection came at the No. 2 position in 2010 — Nebraska defensive tackle Ndamukong Suh.
As the time for signing first-round picks approaches (to date, none have agreed to terms), Suh says something we've heard time and again from unsigned draft picks who eventually miss practices while their contracts are unresolved.
"I'm not a guy that likes to be a part of drama," Suh told Rich Kaipust of the Omaha World-Herald.  "I
definitely don't want to hold out."
Unfortunately, Suh's agent has been part of plenty of drama.  "Typically what happens," Eugene Parker told Kaipust, "is when there's a
sense of
urgency by both parties, things get done." 
Parker potentially defines "urgency" much differently than other agents.  As we reported last August, during the protracted Michael Crabtree holdout in San Francisco, only one of Parker's last 18 first-round clients reported to training camp on time.
Though Parker's track record has created a perception that he likes to wait for the players picked immediately ahead of and immediately behind his clients to do their deals before Parker agrees to terms, Parker claims that he won't be waiting for the Rams to sign quarterback Sam Bradford at No. 1, or for the Buccaneers to sign defensive tackle Gerald McCoy at No. 3.  "I can't say the information isn't relevant, but we look at
Ndamukong as his own person," Parker said.  "We do a deal based on him. 
You look at a lot of factors, so I can't say those would be irrelevant,
but we're not necessarily waiting on them.  They might be waiting on us."
That said, we suspect that Parker will wait.  Bradford and McCoy are both represented by CAA.  So look for CAA to try to first do a record-setting deal for Bradford with the Rams based on the contract given last year by the Lions to No. 1 overall pick Matthew Stafford, and then to find a fair spot in the gap between Bradford's deal and the contract paid to last year's No. 3 overall selection, Chiefs defensive end Tyson Jackson.  Parker then will use McCoy's deal as the floor, and Bradford's deal as the ceiling.
Another factor driving Parker will be a very strong desire to avoid the possibility of McCoy getting a deal that is equal to or better than Suh's, since they play the same position.
Sure, the strategy may require a holdout.  Given Parker's history, however, he apparently views such complications as a price of doing business the way he chooses to do it.