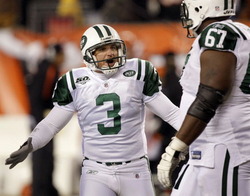 Arizona has been at the eye of the immigration storm of late, thanks to a widely-debated new law that criminalizes the failure to carry immigration documents and gives police broad power to detain anyone suspected of being in the country
illegally. Many support it, many have criticized it.
(Personally, I have no position on the matter. I'm just glad the coal mines and steel mills needed employees in the early 1900s, and that not enough of the people already living in America were willing to do the job. Otherwise, I'd likely be dancing on a large vat of grapes somewhere right now.)
Kicker Jay Feely, who signed in the offseason with the Cardinals and who has violated the first rule of political aspirations by talking openly about his political aspirations, recently suggested that he agrees with the measure.
"I think that a lot of people have put it on Arizona and talked in a derogatory manner about the state, but the reality is that the federal government has failed to address the situation," Feely told The Matt Minkus Show, via TusconCitizen.com. "And because they haven't addressed the situation, because the politicians and presidents have not stepped in to a difficult situation because they're scared of it, then they leave it to the four or five states that are dramatically impacted by the problem to then try to find a solution. I think that's what the state of Arizona is doing, saying 'we have a problem, we have an undue burden because we have illegals that come over that place a burden on our schools systems, that place a burden on our health-care system, on our police force, and we have to find a solution and our federal government hasn't done that.' And they've failed the states in doing what they should have done, and that's finding a comprehensive solution. Because I don't think you can make small decisions and correct a big problem."
On this Memorial Day, it's important to remember that all of the men and women who ever died for our country did so to help preserve our ability to articulate opinions and each and every issue on which we choose to opine. So Feely's words are a testament to the sacrifices that they made.
But there's an important business reality at play here. Feely, as an employee of the local football team headquartered in Arizona, has publicly taken a side on an extremely polarizing issue. For a guy who plays one of the most fungible positions in football, it's a move that was either incredibly brave, or incredibly stupid.
Or maybe a little — or a lot — of both.