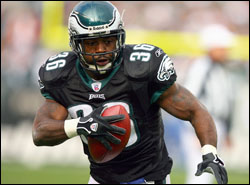 Veteran running back Brian Westbrook was cut by the Eagles in February.  It's now June, and he still doesn't have a job.
But that could be changing.  According to Jason La Canfora of NFL Network, Westbrook is expected to make a decision soon.
Westbrook's options include the Redskins, Broncos, and Rams.
The delay possibly has arisen from Westbrook's financial expectations.  Also, teams may be leery about Westbrook's physical condition.  Some believe his knee is shot, and others fear that his concussion problems from 2009 make him even less desirable.  The fact that his former offensive coordinator in Philadelphia, Brad Childress, had no interest in adding Westbrook even though the team Childress now coaches had a need at the position speaks volumes, in our view.
And even if Westbrook signs a contract in the days after the first unofficial weekend of summer, we'd be surprised if he qualifies for a team's 53-man roster during the summer's final unofficial weekend.
He has played well and valiantly, but his body seems to be too battered.  With plenty of young running backs available, it makes little sense to devote a roster spot to a guy who has never been healthy for all 16 games of a given season.