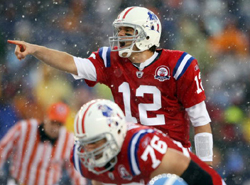 Patriots quarterback Tom Brady will enter the final year of his contract in 2010. Serious talks on an extension have not yet commenced.
And Michael Silver of Yahoo! Sports reports that a "growing sense of disconnect" has emerged between player and team.
Specifically, Silver writes that "no substantial talks" have occurred between Brady's agents and the team. If no deal happens before the 2010 season launches, Brady would then be forced to bear the risk of injury or ineffectiveness through 16 more regular-season games, and up to four postseason games.
If Brady makes it through 2010 in one piece with all ligaments intact, he gains plenty of leverage. At a minimum, he'd be negotiating a long-term deal with the $15 million-plus power of the franchise tag. At best, there will be no franchise tag in 2011, and he'll be able to go to the highest bidder. (Even if he's franchised, wouldn't a team desperate for a quarterback happily give up two first-round picks for him, especially if said team already plans to use one first-round pick on a guy who could be the next JaMarcus Russell?)
Silver believes that Brady will remain in New England for the long haul, but Silver also throws out the tantalizing possibility of Brady playing for a team that moves to his home of L.A., or possibly playing for the team for which he rooted as a kid, the 49ers.
And if he ever becomes an unrestricted free agent, chances are that someone else will offer Brady a record-breaking deal. Though the Pats likely would try to match it, Brady could decide in the end that the Patriots had their chance to treat him properly, and that the team opted instead to force him to get through the 2010 season unscathed.