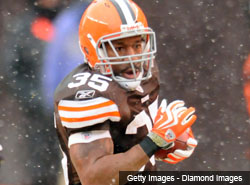 Browns unsigned restricted free agent Jerome Harrison only skipped a few OTAs this offseason, but he may have lost his spot on the depth chart in the process.
Rookie running back Montario Hardesty ran with the first team offense at Browns practices when the media were allowed to watch Thursday. Harrison, who rushed for 561 yards in the final three games last season, is seeking a new contract.
Yes, it's only early June and Harrison can get the job back. But we can't help but think the Browns are sending a message here, not only to Harrison, but to the unsigned restricted free agents that haven't returned to the team yet.