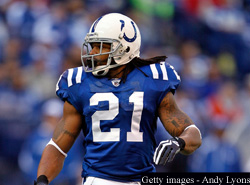 Colts safety Bob Sanders, who has played in only eight games in two seasons since cashing in with a huge contract in the same year he was named defensive player of the year, has returned to practice with the Colts.
"I'm excited to be back," Sanders said Friday, according to Phil Richards of the Indianapolis Star.  "I'm excited to be practicing.  I'm excited to
get back to doing what I love to do."
Sanders had a knee problem in 2008 that carried into early 2009, and then a ruptured biceps tendon once the knee healed sufficiently to let him play.
"I've been able to rehab myself back to pretty decent health where I can
actually practice full time," Sanders said.  "[Organized team activities] have really
gone well for me. The knee has been doing great. The arm has been doing
great.  I feel great."
But whether the player listed at 5-foot-8 and 206 pounds, which likely means that the true measurements are more like 5-foot-6 and 185, can continue to feel great is the issue, especially since the Colts thrived without him in 2009.
At some point, Sanders' inability to play coupled with the team's ability to play well without him will prompt the team to move on.  For a six-year veteran who has been limited to only 18 games in four of his full seasons, that time likely is coming sooner rather than later.