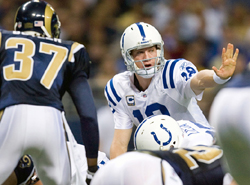 Lately, there's been plenty of talk regarding the fact that Patriots quarterback Tom Brady has only one year left under contract.  However, Colts quarterback Peyton Manning stands in the same position as Brady.
In an appearance on Sirius NFL Radio's Sirius NFL Blitz with Adam Schein and Rich Gannon, Colts president Bill Polian addressed the challenges that the team faces when it comes to giving Manning a new deal.
"It's always difficult to do in that you are talking about astronomical numbers," Polian said.  "That said, the more difficult part of it is not knowing what the labor situation will be going forward.  That's the hard part.  Because you don't know that a contract that you would do today would fit under the system tomorrow.  So that's where you've got to be not only creative but clairvoyant.  And I'm not clairvoyant."
So should teams like the Colts play the waiting game?
"I don't think you play the waiting game," Polian said.  "I think what you do is cover as much ground as you can, both conceptually, in form, in the the way you're gonna deal with the various parts of the contract and then hope to get as much information as time goes on as possible so that when you get to the last throes of it you're able to be able to just plug the numbers in, in the sense that you've covered lots of ground beforehand.  That's our objective, both Tom Condon and myself going forward.  So we'll have those conversations, and we'll cover a lot of ground. . . .
"The further we get toward next March, probably the more we'll know about how the labor situation shapes up."
But here's the problem.  As March approaches, Manning gets closer and closer to a crack at the open market.  Even if the franchise tag survives beyond March 2011, a team that needs a quarterback — and that is thinking about using a first-round quarterback — would be nuts not to willingly part with two first-round picks for a crack at making a poison-pilled offer that the Colts wouldn't be able to match.
So the Colts would be wise to get this thing done sooner rather than later.
As to the notion that labor uncertainty keeps the deals from getting done, a notion that Jets G.M. Mike Tannenbaum also has raised regarding the so-called "Core Four," our response can be summed up in one word.
Baloney.
The Colts paid to Manning an "astronomical" contract when a salary cap existed.  For now, there's no cap.  Though the 30-percent rule limits the amount of salary or roster bonus Manning can receive in 2010, he received a base salary of $14 million in 2009 and he's due to receive a base salary of $15.8 million in 2010.  Under a new deal, he can be paid gigantic salaries without running afoul of the 30-percent rule, and the rest of the money can be paid via a signing bonus.
Besides, in the last four years of the salary cap, teams typically spent below the limit.  So why would the Colts or the Jets fear paying fair market value to their most important players simply because the specific rules for 2011 and beyond have yet to be determined?
The easy explanation comes from the possibility that teams have decided, either on their own (which is permissible) or jointly (which isn't) that they will hold down spending until a new deal is done, in order to put maximum pressure on the players.
If it's the latter, it's collusion.  And at some point the union should be prepared to aggressively explore the possibility that teams have decided to rein in spending for 2010 in the hopes of making it harder for players to take a stand in 2011.
We're not saying that collusion is occurring.  We're only saying that the superficial evidence at least justifies the union looking into the possibility that it is.