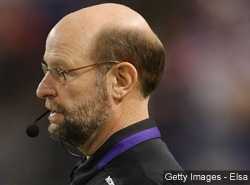 Vikings running back Adrian Peterson chose attendance at the Fourth Annual Adrian Peterson Day in East Palestine, Texas over attendance at the team's mandatory minicamp.  Vikings coach Brad Childress chose not to be happy about it.
Though Peterson ditched the minicamp without permission, Childress said Sunday that hasn't decided whether to fine Peterson for his actions.  The full video of the coach's press conference can be viewed at the team's official web site.
The Vikings can fine Peterson nearly $10,000 for missing the three-day event.  Technically, teams also can pursue recovery of 25 percent of the player's signing bonus allocation for the current season.  However, because few if any top-ten picks receive signing bonuses due to the niceties of the rookie pool, Peterson likely faces no exposure in that regard.
The bigger question, in our view, continues to be whether Peterson intended to send a message that relates in whole or in part to a desire to land a new contract containing a significant signing bonus — and other significant cash payments.