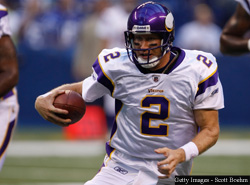 A year ago, Sage Rosenfels looked like Minnesota's likely starting quarterback.  Now he may be fighting for his roster spot.
Judd Zulgad of the Minneapolis Star-Tribune notes that rookie Joe Webb received second team snaps ahead of Rosenfels at both mandatory minicamp practices on Saturday.  Rosenfels received all of two snaps at both the morning and afternoon practices.  Webb, meanwhile, threw more than 20 passes on the day with the No. 2 team offense.
It's an amazing climb for Webb, who started rookie minicamp at wide receiver.  It also shows what a huge gap exists between Tarvaris Jackson and Rosenfels.
We understand Brad Childress is using the minicamp to evaluate Webb, but don't take this development lightly. Chilly wouldn't bury Rosenfels during the only mandatory minicamp of the offseason unless Webb had a chance to put Rosenfels on the next choppa out of town come September.