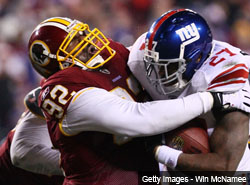 We've criticized defensive tackle Albert Haynesworth the man many times since he decided to try to shred the skin off Andre Gurode's forehead like so much cheddar cheese.  Haynesworth simply is not a good person, in our opinion, and he reminds us of that from time to time.
Most recently, his decision not to report for a mandatory minicamp barely 15 months after the Redskins gave him a contract with $41 million guaranteed and barely two months after they cut him a check for $20 million demonstrates conclusively that, yes, the man is a turd.
This isn't about trying to get a newer, bigger contract.  Haynesworth got one of the biggest contracts ever given to a defensive player, and now he doesn't want to earn the money he already has received.
The Redskins can't claim they didn't know what they were getting.  After his 2006 incident with Gurode, which resulted in a five-game suspension, Haynesworth tried too damn hard to convince people that he had changed.  Then, he put the pedal to the metal in 2007 and 2008 through a contract year and a franchise-tag season, playing like a madman in the hopes of scoring a huge contract as a free agent.
Now, Haynesworth has decided that he wants to join a new team, after cramming more than $30 million of Daniel Snyder's money into his pockets.  Hopefully, no one will offer the Redskins so much as a conditional seventh-rounder for the guy.  And anyone who does deserves what they get.
Even more hopefully, the Redskins will hold Haynesworth's feet to the fire, fining him and suspending him and doing everything within their power to force him to behave.  Though they'll ultimately be unable to collect many of the millions they've given him, they need to make a point to current and future players in the hopes of saving millions more down the road.
For now, the Redskins can fine him roughly $10,000 for skipping the minicamp.  If he stays out when training camp rolls around, the number increases to more than $16,000 per day. 
They also likely will be able to pursue a portion of his signing bonus.  But since he received only $5 million in a traditional signing bonus, what he'd have to repay pales in comparison to what he's already received.  (We're in the process of confirming that the signing bonus repayment obligation applies not only to training-camp holdouts but also where the player skips a mandatory minicamp.)
All that said, it's impossible for us to feel too badly for the Redskins, given that they apparently tampered with Haynesworth before he officially became a free agent — and because anyone with an ounce of common sense knew or should have known that Haynesworth is a sack of headaches waiting to happen.