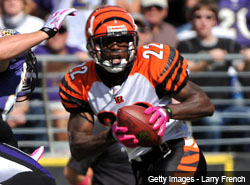 Despite rumors to the contrary, NFL teams are indeed allowed to proactively approach their young players for contract extensions this offseason.
Cincinnati made two proposals to fourth-year cornerback Johnathan Joseph in the last week.  Joseph isn't even publicly complaining about them!
"It shows positive signs," Joseph told ESPN's James Walker.  "It's one of
those things that hopefully we can get it done. But if not, I'm here
for the rest of this season and I'm focused on this season. I'm not that
worried about it, but it's one of those things you'd like to get behind
you."
In Joseph and Leon Hall, the Bengals arguably have the best young cornerback duo in the league.  They are certainly the most affordable, due to make $2.5 million combined this year.