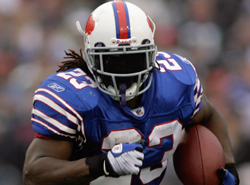 Marshawn Lynch's long awaited return to Bills practice is expected to happen on Tuesday, according to ESPN's Adam Schefter.  But how long will he stay in town?
NFL Network's Jason La Canfora reported on Tuesday that Seattle has "maintained" interest in Lynch throughout the offseason, even when LenDale White was on the roster.  J-La also believes Seattle would give up a fourth-round pick for the running back.
If that's true, the Bills should just deal Lynch and get it over with.  They certainly aren't going to do any better in a trade.