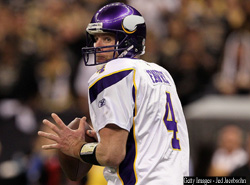 Once Vikings quarterback Brett Favre underwent ankle surgery that he didn't need for activities other than, you know, playing football, his intentions for 2010 became even more clear.
He'll be back.
And while his teammates in Minnesota have yet to express a similar degree of certainty, they remain optimistic that Favre will choose to return.
"The way we ended last season, being so close, I think that's still on
his mind and he understands the capabilities of this team and what we
have," linebacker (and PFT Season Preview magazine co-cover boy) Ben Leber told Vic Carucci of NFL.com.  "I just think his competitive spirit is going to
bring him back."
"We know we should have won the Super Bowl, we should be champs right
now," receiver Bernard Berrian told Carucci.  "That's where we're leaving off, and I think that's
where he's leaving off, too.  I think that's lingering around his head,
too — that there are still plays to be made out there.  I'm hoping
that's what he's thinking."
Defensive tackle Pat Williams told Carucci that the veteran lineman has resisted the temptation to ask Favre what he plans to do.  (If only Williams could similarly resist the Lure of the Ho-Ho.)  "Everybody knows what Brett can do, so we're not worried," Williams
said.  "We're not mad, we're not worried as long as he comes shortly
after we break camp [at the latest].  We've got our heads on straight
here.  Everybody's working hard.  Our locker room's like a family.  We
don't complain, we don't point fingers at each other.  Everybody's
together."
Williams is right.  Last year, Favre showed up after training camp broke as a stranger to the organization, and the season went pretty damn well.  This year, Favre has 18 games that count under his belt with most of the players on the team; thus, he can show up after training camp breaks, and he'll be fine.
Still, unlike last year, Favre has a contract with the team.  So he'll likely need to let them know his plans before the Vikings head to Mankato, since they'll need to know whether to carry a roster spot for him, or whether to place him on one of the various reserve lists.
Of course, that doesn't mean the Vikings will say anything other than "we don't know what Favre is going to do," even if they already do.  And we think they do.