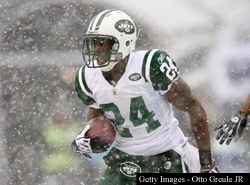 Nothing to see here, folks.
Jets cornerback Darrelle Revis' sudden case of the blue flu temporarily embarrassed coach Rex Ryan, but the two men met Tuesday night to go over the mini-drama.
Ryan told Rich Cimini of ESPNNewYork.com they had "a great talk. It's funny because, when it's a football thing, we
definitely see eye to eye. He knows what I expect of him and vice versa.
We definitely see eye to eye."
The Jets coach said Revis "never has to apologize" to him, even if the cornerback didn't change his story from Monday. (Revis told Ryan he sat out some team drills because he was lightheaded, not for contract reasons.) Revis was back on the field for all drills on Tuesday.
Uncomfortable as a distraction, Revis can't seem to bring himself to be a huge pain in the ass. So he takes half measures, skipping a few voluntary practices, then returning. He sits out a few plays before coming back into the fold the next day.
We doubt any of it gets Revis paid faster, but his agent should come up with a consistent plan and stick with it.