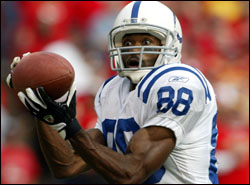 As further proof that former Colts receiver Marvin Harrison could end up sliding a mustard Hall of Fame jacket over an orange jumpsuit, Shaun Assael of ESPN The Magazine reports that police confiscated a 9mm handgun from Harrison during a routine traffic stop on Wednesday in Philadelphia.
Police will test the gun to see if it matches three spent 9mm shell casings that ended up inside the truck driven by the late Dwight Dixon at the scene of an April 2008 shooting.  Dixon, who eventually was shot and killed after filing a civil lawsuit, claimed that the casings came from a second gun that Harrison fired.
Authorities already have matched other bullets to a separate gun that Harrison owns — and that he admitted was in his possession on the day the shooting occurred.
Police found the gun during a search of Harrison's Escalade.  The stop occurred as Harrison drove the vehicle the wrong way on a one-way street.
Harrison claimed he did not have a gun.  But police believed they saw Harrison put what appeared to be a weapon in the console between the two front seats.  They concluded that they had probable cause to search the vehicle, and they found the gun.
The incident comes on the eve of the 16th anniversary of O.J. Simpson's notorious slow-speed Bronco chase.