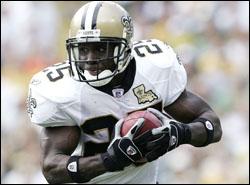 For vague, likely bogus reasons, Reggie Bush still won't discuss the specific details of the NCAA case that resulted in severe sanctions against USC.
But Bush did open up about how the punishment has affected him personally for the first time on Wednesday.
"This thing regarding USC and the NCAA is to me the closest thing to death
without dying," Bush said. "Because I have
such a great love and respect for the University of [Southern]
California, this has been one of the toughest things I've had to deal
with in my life."
Bush admitted no wrongdoing, but did "accept responsibility."  (The whole transcript is worth a read.)  He also said he plans to aid the school as much as possible with an appeal.  (That sounds nice, but Bush is radioactive to the school now.  He's likely on his own.)  
Privately, Bush's friends tell Yahoo's Charles Robinson the Saints running back is "devastated" and "depressed."  He may move out of L.A.
"[Bush] thinks that most people in Los Angeles hate
him right now. He doesn't know what to do to fix it."
He's tried to "lean on" influential locals like actors and musicians to help "repair his image."  Image matters to Bush, perhaps too much.  But if he really wants to improve his image, he should copy another L.A. icon — Kobe Bryant.
Become the best at what you do, live up to the hype, and you'll be amazed what people can forgive and forget.