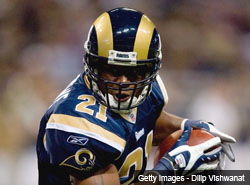 O.J. Atogwe may plan to visit Seattle next week, but the Seahawks don't sound that interested in meeting him while he's there. 
ESPN's Mike Sando reports via a team source that no visit is planned from Seattle's end.  What we have here appears to be a failure from Atogwe's camp to drum up interest for the safety.  (Not to mention some ESPN-on-ESPN crime.)
All along, the Rams have pushed the hardest of any team to sign Atogwe.  But he's needed another team in the mix to help raise his price tag.  Apparently, he floated the wrong team publicly.
It's unclear if Atogwe still plans to make the journey to the Northwest. If so, we recommend a trip to Safeco Field and the cafe/bookstore that inspired one of the sets on Frasier.