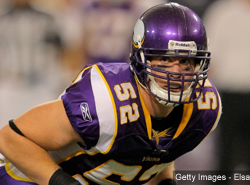 The Vikings have provided us with plenty of offseason questions.  Will Brett Favre play again?  Can Pat and Kevin Williams continue to wreak havoc in a court of law?  Would literally taping the ball to Adrian Peterson's forearm reduce fumbling?
Now comes a new one.  Linebacker Chad Greenway didn't participate in last weekend's mandatory minicamp.  And when he appeared with our buddy Paul Allen on KFAN recently, Greenway wasn't talking about why he wasn't on the field.
"Coach [Brad Childress] and I had a little agreement and that's all
I can say about that," a Forrest Gump-channeling Greenway said, via Judd Zulgad of the Minneapolis Star Tribune. 
"You'll have to ask the head guy about that one."
Good luck with that.  After the first day of the minicamp, Childress said he didn't know why Greenway was missing.
But Greenway added that there's nothing "controversial" about the situation, and that it has nothing to do with the player's contract.  "It was sort of a special situation that we had worked out and it was
good," Greenway said.  "It's something that's going to stay in house."
Meanwhile, the Fourth Annual Chad Greenway Day in Mt. Vernon, South Dakota reportedly was a rousing success.