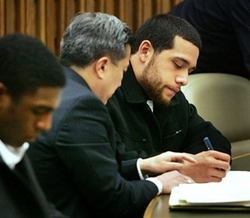 Last week, we were the first to report (I smell a Pulitzer) the three names of the men who'll enter the July supplemental draft:  Harvey Unga, Vaness Emakpoe, and Joshua Price-Brent.
The pool could expand to four, according to ESPN.com's Len Pasquarelli.  The next man in could be Oregon quarterback Jeremiah Masoli. 
Dismissed by the Ducks on June 9, Masoli reportedly is weighing his options.  With one year of eligibility remaining, Masoli could opt for a transfer instead.
In March, Masoli received a sentence of 12 months' probation after pleading guilty to the January 24 burglary of two laptop computers and a guitar.