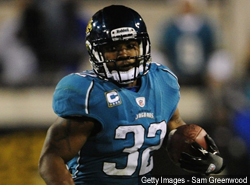 Since SI.com's Peter King is hanging out in South Africa with small lions (we've seen photographic evidence of young Simba pondering whether King's head would be enough to eat for lunch), a diminutive Jaguar has taken the wheel of King's signature Monday Morning Quarterback column.
And running back Maurice Jones-Drew explains something that we have long believed:  NFL success combines the excellent talent that gets men a shot at the pro level with a desire to become great.
"While others are sleeping or partying, the great ones are running hills,
lifting weights and studying film," Jones-Drew writes.  "They do this not because a coach has
instructed them to do so.  They do it because they simply desire to be
the very best."
Jones-Drew explains that the "formula has always been and always will be the same:  Talent + 'Want-To' = Greatness."
Another excellent observation comes from Jones-Drew's explanation that "the pursuit of greatness forces the athlete to put his ego aside and face the limitations of his athletic ability."  Jones-Drew thinks that the struggle to improve only a little bit prompts some to "accept mediocrity, especially when average pay at the NFL level is pretty darn good."
While reading the column, we kept thinking of the obvious comparison between the former UCLA tailback and his cross-town rival.  You know, the guy who had the fame, the hype, and the glory.  And, as it turns out, the money.
USC's Reggie Bush entered the league with not an expectation but a presumption that he'd be the next Gale Sayers.  Though Bush hasn't been horrible, he also hasn't been special.  In four seasons, Reggie has rushed for 1,940 yards, averaging 4.0 yards per attempt.  Jones-Drew has more than doubled him up, with 3,924 yards and a 4.7-yard average.
Bush apologists can offer up a laundry list of excuses for that huge gap in performance.  And, yes, Bush has a Super Bowl ring.  But the fact remains that Jones-Drew has been a much better player, possibly because Bush has been willing to "accept mediocrity," given the very high amount of money he has earned.
"For many," Jones-Drew says, "just the thought of having to pay such a huge price is enough
to bail on greatness and simply get by."
Though he calls no one out by name, his point becomes abundantly clear when considering the pro performances of the two men who entered the league simultaneously via the city that hasn't had an NFL team since 1994.