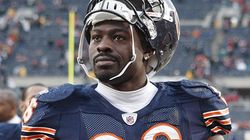 Earlier this year, the Bears cut defensive end Alex Brown. He eventually signed with the Saints, and everyone moved on.
Until Brown showed up at Halas Hall.
Our friends at 670 The Score in Chicago have pointed out that Brown claims on his Twitter page that, once he entered the building, security escorted him out of it.
Here's what Brown said, via multiple tweets: "Not that I didn't know already but today I learned
a very valuable lesson about the NFL and how some teams work. There has been so many people asking me about this
I guess I will share it. . . . Today I went over to Halas Hall and . . . to my surprise I was escorted out if the building. I guess I understand it somewhat but damn didn't think I would get
kicked out! Who Dat!!"
Unfortunately, the Saints and the Bears don't play each other this year.