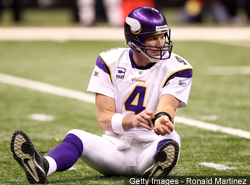 Despite all evidence to the contrary, Brett Favre insists he has no clue regarding his plans this season.
"Hell, I want to know," Favre told buddy Al Jones of the Biloxi Sun-Herald. "But I am not going to press it. If I do not
play, it does not cost the Vikings a dime. They keep the $13 million. I
know they have confidence in the players they have. They had a chance to
draft [Jimmy] Clausen in the first round, but
they didn't want one."
Favre appears to be countering the notion that his indecision could hurt the Vikings.  But no one has made that argument this year because everyone expects him to return.
The Vikings quarterback says 2009 was his best season ever, that he still loves to play the game, but that he can't play forever.  He's tried to stay quiet this offseason.
"I do not want to stir the pot. If it [comment]
comes from me, it's a big deal," Favre said.  "At my age, all surgeries are major. The
three I've had on the same ankle were considered minor, but major to me.
It feels fine now.  If my body was a wreck, the decision would
be made. But that is not the case. I know they [Vikings] want to know."
Brad Childress recently told Favre to take his time.  And while Minnesota would surely love a final answer, the team isn't blind.  It expects him to return, like everyone.  Favre still loves the game, and the adulation that comes with it.
"I have people telling me all the time that the NFL is better when I
play," Favre said.  "That is a big compliment and it makes me feel good."