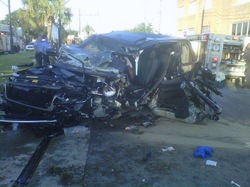 Giants safety Chad Jones, a third-round pick in the 2010 draft, has been injured in a car accident in New Orleans.
A member of the local media sent to us a photo of the vehicle. It's a frightening image.
Per WWL, Jones was alert when taken by ambulance to the hospital.
Two weeks ago, Jones signed his rookie deal with the Giants. He also was drafted by the Milwaukee Brewers after playing both football and baseball at LSU, winning a national title in each sport.
We wish him a full and complete recovery.