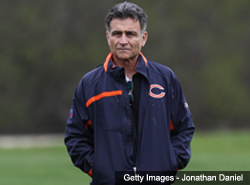 As if Bears General Manager Jerry Angelo didn't have enough problems as he runs an underachieving football team that has him on the hot seat as the 2010 season approaches, the long-time exec has waded into the labor battle between the NFL and the players' union.
And the union has returned fire.
At a meeting earlier this week of the City Club of Waukegan, Angelo touched on a variety of topics, two of which caught the attention of the NFL Players Association.
First, Angelo had this to say regarding NFLPA Executive Director De Smith, per the Lake County News-Sun:  "I have some concern that the new Players Association chief might not recognize a good deal when it's on the table.  Not that
he's not competent.  But he's so new."
Said NFLPA Assistant Executive Director, External Affairs George Atallah, "Any deal that takes players back to the 1980s in terms of All-Revenue,
increases their risk of injury, decreases their ability to get post-career
health care and makes them pay for their own training facilities is a bad deal
regardless of how 'new' you are.  Maybe Jerry Angelo should try to sell the
owners' proposal to the Bears players.  That would be a new experience for him
too."
Second, Angelo explained the labor unrest by explaining that "[t]he owners are just looking for the players to share in costs of
infrastructure and all the new stadiums being built around the league."
Said Atallah:  "Players have contributed to stadium costs and infrastructure improvements for
years.  That's not new.  For the new Meadowlands and Cowboys stadiums, players
invested more than $1 billion towards financing those stadiums through the G-3
program.  Players expect to invest in the growth of the NFL business and be
treated as business partners by the owners.  That's not a new concept for
players."
Atallah pointed out that the G-3 program resulted in $800 million for the new Meadowlands Stadium, and $300 million for one-year-old Cowboys Stadium.
Though the parties likely will agree to continue to disagree as to the merits of their respective statements and positions, Angelo's decision to go beyond his job duties and comment on the status of the labor negotiations represents a first for a guy from football operations — and it could result in Angelo making a sizable contribution to a charity of the NFL's choice.