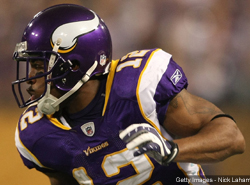 Our pal Brooks of SportsByBrooks.com has done a great job breaking down the NCAA's case against USC.  In one of his latest items, Brooks raises substantial questions regarding the NCAA's conclusion that Trojans running backs coach Todd McNair knew or should have known that prospective marketing agent Lloyd Lake had been providing money and other things of value to former USC tailback Reggie Bush.
And Brooks has tracked down an intriguing nugget that pulls Vikings receiver Percy Harvin into the story.  Harvin, then a recruit, made an official visit to USC in October 2005.  Bush had agreed to entertain Harvin, but Bush was with Lake and his partner, Michael Michaels, on a "post-game outing."  So Bush left Harvin waiting in his hotel room while Bush had dinner with his family, Lake, and Michaels.
Apart from whether the NCAA botched the investigation regarding USC's knowledge of the payments made to Bush, the fact that Bush would treat a key recruit like Harvin that way suggests that he cared only about his own interests, and not about whether USC would still be successful after he left.