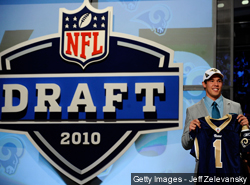 Unlike many first overall draft picks, Rams quarterback Sam Bradford did not agree to terms before being selected in April.  But he's making plans for the large pile of money he'll soon receive.
Per the Oklahoman, Bradford receives at least one pitch per week regarding investment opportunities in the range of $100,000 or more.  But he's being careful, relying on a financial adviser and Bradford's father, Kent, an expert in the insurance industry.
"I expect those things will come, but I'm
very fortunate that my dad is still a major part of my life and he
really handles most of this stuff for me," Bradford told the Oklahoman.  "If anyone
comes, they're going to talk to him.  He's going to have to see a
business proposal.  He's going to have to see a lot of things before
we'll even consider making an investment."
Bradford explained that the Rookie Symposium included information regarding money, with the first-year players participating in a football-style game based on answering financial questions. 
The overriding message?  Pay your bills.
When he signs with the Rams, Bradford will be able to pay his bills, and then some.  He'll be receiving upwards of $50 million guaranteed.  After taxes and agent fees, he's looking at $25 million liquid, or more.  The most conservative approach will be to put it all in low-yield, no-risk investments.  The best approach likely will be to diversify, with different levels of risk and, in turn, different levels of potential reward.
Either way, it sounds as if Bradford already realizes the importance of being careful with his cash, something that quarterbacks like Mike Vick and Mark Brunell weren't.