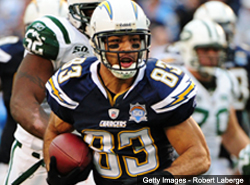 Lost, at times, in the contractual dispute between the Chargers and receiver Vincent Jackson is the fact that Jackson faces a suspension in the wake of a pair of DUI incidents.
Per a league source, a team with interest in Jackson has learned that he's expecting a four-game suspension from the league office.
In 2007, then-Chiefs defensive end Jared Allen received a four-game suspension after a second DUI.  On appeal, the league reduced his sanction to two games.
For Jackson, he also has pleaded guilty to knowingly driving with a suspended license after an arrest that occurred on the way to a playoff loss to the Jets.  After that arrest, Jackson expressed defiance and indignation; if the league has heard the audio of his remarks, we doubt that Jackson will earn any brownie points.
The fact that Jackson faces a suspension likely has made him less inclined to sign his tender offer before the regular-season begins.  The reality that he could miss as many as four games could make teams interested in trading for him less inclined to do so.