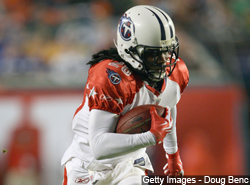 After boycotting all offseason workouts in Tennessee for the entire 2010 offseason, a league source tells us that running back Chris Johnson was spotted twice this past week working out at the team's facility.
We're told that Johnson was in town for a marketing event.  Despite his decision to boycott all offseason workouts and practices, he has full access to the team's weight room and other fitness facilities.
The meaning, if any, of Johnson's presence at the team's facility isn't currently known. 
Johnson has three years left on his rookie contract.  Due to earn a base salary of only $550,000 in 2010, he has said that he can't play for that amount.
It's widely believed that he'll report to the team no later than August 10, since failure to do so would prevent him from earning a year of credit toward free agency.