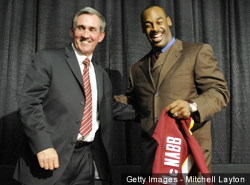 When the Redskins traded for quarterback Donovan McNabb in early April, many assumed that he'd soon have a new long-term deal with his new team.
Nearly three months later, there has been no evidence of any progress.
Chris Russell of 106.7 The Fan in D.C. reports that, currently, no talks are occurring.  The lack of progress, per Russell, comes from the uncertain status of Colts quarterback Peyton Manning and Patriots quarterback Tom Brady.  Like McNabb, Manning and Brady have one year left on their contracts.  Both Manning and Brady could be in line for deals that set a new bar for the quarterback market.
Though McNabb isn't at their same level, the extent to which they raise the ceiling on quarterback deals will trickle down to the second tier, and so on.
If the Redskins want to wait, it's likely coming from the fact that McNabb has asked for too much in preliminary discussions.  If McNabb wants to wait, it's likely coming from the fact that the Redskins have offered too little.
Either way, delay introduces potentially significant risk into the equation, for both sides.  If McNabb has a big year, his leverage goes up.  If he struggles, his leverage drops.
Regardless of how it all plays out, the chance of a one-and-done career in D.C. for McNabb will persist until he signs a new contract.