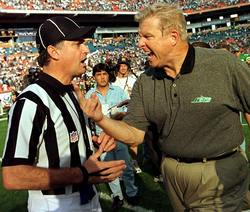 Last week, word emerged that former NFL V.P. of officiating Mike Pereira had taken a job with FOX.  We wondered whether the prospect of a broadcast partner pointing out the periodic ruh-rohs of the refs would make the league office nervous. 
Apparently, it won't.
Deep in an interview with Milton Kent of AOL's FanHouse.com lurks news that Commissioner Roger Goodell gave Pereira during a recent breaking of the bread blessing to bust the balls of the men in black, and white.
"I'm never one to say that officials are perfect and it's clear that
they do make mistakes, just like everyone else who's involved with the
game makes mistakes," Pereira told Kent.  "But I really do think that I'll
have the opportunity to have the platform to explain what they're doing,
what the rules are and, ultimately, it will improve the perception of
officiating. . . .
"I think [Goodell] realizes that the fan, our fan, the NFL fan, has
become a very sophisticated fan," Pereira said.  "For him, to have a
program that is basically open and will address situations, he thinks
it's good and for me to have the opportunity to have the platforms to
teach rules to fans and to announcers and to anyone who wants to listen,
he thinks that's a good thing."
So do we.  Though we've paid not much attention to the World Cup, it appears that FIFA's approach to officiating blunders is simply to cry out, "Pay no attention to that man behind the curtain."  The NFL, on the other hand, realizes that the best way to deal with the presence on the carpet of a pile of something that plopped out of a poodle is to deal with it, not ignore it.
And that's another reason why the NFL continues to be the best sports league on the planet.