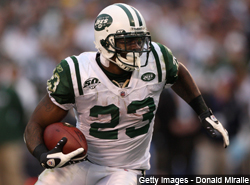 A truly great running back thrives on contact, on dishing out as much or more punishment than he takes.
Whether they realize it or not, most men of that mindset tend to flame out and not fade away.  And before they flame out, they don't realize that they ever will.
Despite his importance to the offense, Jets running back Shonn Greene won't be taking the easy way out, ever.
"We don't run out of bounds," Greene told Manish Mehta of the New York Daily News.  "I've been taught that
all my life. . . .  I don't think that's going to help the way I play by doing
that.  If I just go out and do what I do, everything else will take care
of itself.
"That's what I do," he said.  "I play the game of football. You can't
worry, 'Oh, what if I do this?  What if I run out of bounds?'  No, that's
not the game of football to me.  Football is a hard-nosed game."
But it sounds as if the Jets prefer that Greene not be quite so hard-nosed.
"You have to teach him when to avoid, when to go down and when not to
take on three people just so he can get through a season," running backs
coach Anthony Lynn told Mehta.  "That's an education process."
And there's no shame in knowing when to hit the ground, or when to take advantage of the daylight residing on the other side of the white stripe.  Barry Sanders did it, and no one ever accused him of not being tough.
So, for the Jets' sake (and his own), Greene needs to realize that there's no shame in running out of bounds, while he can still run.