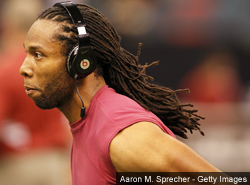 Count a former Vikings ball boy among the folks who hope that a current Vikings quarterback decides to call it quits before a 20th NFL season.
Cardinals receiver Larry Fitzgerald would prefer to come home on November 7 and face a team without Brett Favre.
"Honestly, if he didn't come back I wouldn't mind," Fitzgerald said, per Judd Zulgad of the Minneapolis Star-Tribune. "You
look at the NFC right now, you think of the Cowboys, you think of the
Green Bay Packers, you think of the Minnesota Vikings. Those are the
three juggernauts in our conference and if Brett wasn't back I don't
know."
Um, Larry? How about the team from New Orleans? You know, the one that kicked your team's butt in the playoffs and knocked out that 80-year-old man who used to quarterback the Cardinals?
Meanwhile, Fitzgerald thinks Favre will play. "He will be there for sure," Fitzgerald said. "Who would turn down $13 million? Would you?"
That's a point that previously hasn't been raised this year. Apart from trying to pull a John Elway and leave the game with a Lombardi tucked in the belt of his Wranglers or hoping, Jerry Rice-style, to set the all-time records so high that no one will ever break them, Favre gets $13 million — $812,500 per game — to play this year.
So, yeah, he'll play. And he'll get the first crack at the team that Fitzgerald potentially has stirred up by leaving them off the short list of elite teams in the NFC.