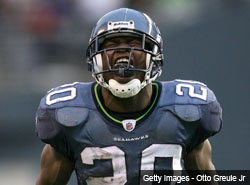 Attention, fantasy football aficionados.  (That's the kindest synonym we could conjure for "geeks.")  There's a new sheriff in Seattle, and he likes one of the tailbacks with whom he used to contend at Cal.
Former USC coach Pete Carroll has taken a shine to tailback Justin Forsett, according to our good friend Sam Farmer of the Los Angeles Times.  Specifically, Farmer says that Forsett has become an "instant Pete Carroll favorite." 
That's good news for Forsett, and for anyone who may be inclined to acquire Forsett for his or her fantasy football team.
In his final season at Cal, Forsett rushed for a season-high 164 yards against the Trojans.  He added 45 yards receiving, for 209 yards from scrimmage.
Three years later, Forsett lands on Farmer's list of 10 potential breakout players.  For the other nine, give the writer named Farmer (somewhere in Iowa, there's a farmer named Writer) a visit at his regular hangout.